Wall Paneling Ideas With Vinyl | Project Walkthrough
Whatever your goal is – adding interesting textures, hiding worn-off paint, or replacing boring wainscotting – wall paneling is a way to go. Panels are easy to install and refinish especially when it comes to vinyl films. Here is a couple of wall paneling ideas with vinyl and how it gets done. And we start with a plain wall below that needed to fit an electric fireplace below. Our task was simple to formulate – fancy walls for a fancy manor. 

The project was done for Total Construction Group that was building a luxurious manor in West Vancouver. A $15 million worth space required some sprucing up that would not drive the manor price further up. We'll skip the details of why the company and their designer preferred architectural film for such a sophisticated place (you can still read about interior film benefits for general contractors in a blog as well as for interior designers). Instead, we'll focus on visual content and prove why the designer's choice of vinyl was the ultimate solution.
Probably, the hardest part of an entire project. It always requires accurate measurements and precision in installation. However, this is the core advantage of vinyl application – any panel can be used. The pictures show that simple MDF panels were used to cover a pale painted wall. Panels can be cut and adjusted as many times as you need it. This is not an option in most cases when you preorder molding.
Note that the designer wanted to have black rails between panels so non-refinished rails are still wrapped in white tape. Architectural vinyl film is about 0.015 inches thick. So it is a necessary step to ensure that when an actual black vinyl is applied, rails still will be able to stick in those panel gaps.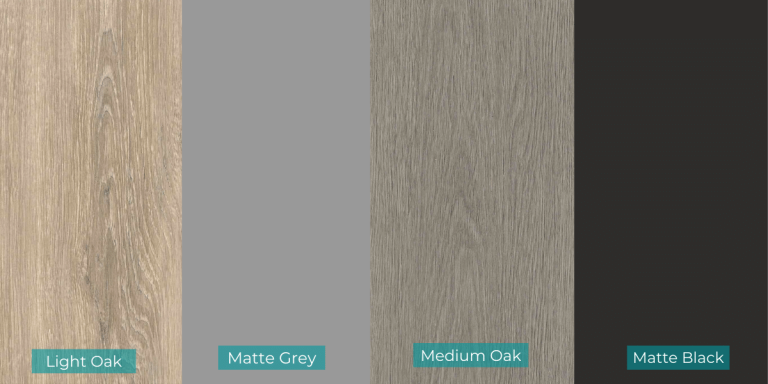 For the project, the designer chose a combination of wood and black for two bedrooms and matte grey for a spacious kitchen. Wood patterns are W873 Light Oak and SPW44 Medium Oak. As expected, SMT05 Grey Matte and SMT07 Black Matte are good at reflecting light, just like matte textures are supposed to be.
We have to admit that the texture choice is excellent: not too bright and not too plain for bedrooms. However, this is where architectural film truly shines, because you can choose any texture and color. 450+ patterns of wood, metal, stone, and even leather and fabric. Check more examples in our blog: terrazzo stone panels or brushed metal panels – and everything can be done with the use of simple plywood or MDF!
A close-up pic here is to demonstrate that wall paneling ideas with vinyl are simpler and less expensive in execution, but do not force you to compromise any quality.
The process resembles a typical peel & stick procedure. If panels are large enough, you'd probably need a squeegee to remove any air bubbles that appear during installation. If wall panels have a sophisticated shape, e.g. curved edges or a multiple-paneled structure, you'd also find a heatgun to be very useful to stretch architectural film in difficult spots. Bodaq interior film stretches up to 200% under high temperature. Still, for simple panels like this project, you wouldn't need it.
If you need some tutorials on how film is installed correctly, visit our YouTube lessons. Visual project walkthroughs are also available there.
Reap the seeds of your creativity
A moment of appreciation. Let's have a look at how the wall panels transformed.
With the use of architectural film, basically any wall paneling idea can be fulfilled. Whether it's a white linen panel, exquisite marble or a "go full wood" mood, there are no restraints. A lightweight basic material, like plywood or even foam (as in our office in the complication pic below) can serve as a foundation. Tactile sensation and visual appeal will be imitated vinyl film anyway.
If you are thinking about some wall or paneling project that potentially involves vinyl film, don't hesitate to contact us. We're always happy to assist with any questions, estimates, and other refinishing concerns. Sending free texture samples is of the options, too.
Stay tuned as the video about this project is out soon!