Main Pros and Cons of Two Approaches
There are many ways to change the look of any surface. In this article we will take a look at the traditional paint approach and architectural film as a new way to finish a surface. But these two are like comparing two different car models – still working nice but what is the purpose behind using each one of them?
Among all the necessary characteristics of each finishing approaches, we decided to highlight the following:
Time. How long will it take to finish your piece or renovate your place?

Organization. What does the process look like? Do you need to consider cleaning afterward?

Imperfections. How the finishing solution reacts to different types of surfaces, and shows or hides the imperfections?

Durability. How long does it take to start peeling, cracking, etc.?

Cleaning. What cleaning solutions should you have to take care of the newly finished surface?
We consider the above mentioned the most important signs of analyzing whether an approach is good for you or not. So let's go further into this and take kitchen cabinets refinishing as an example.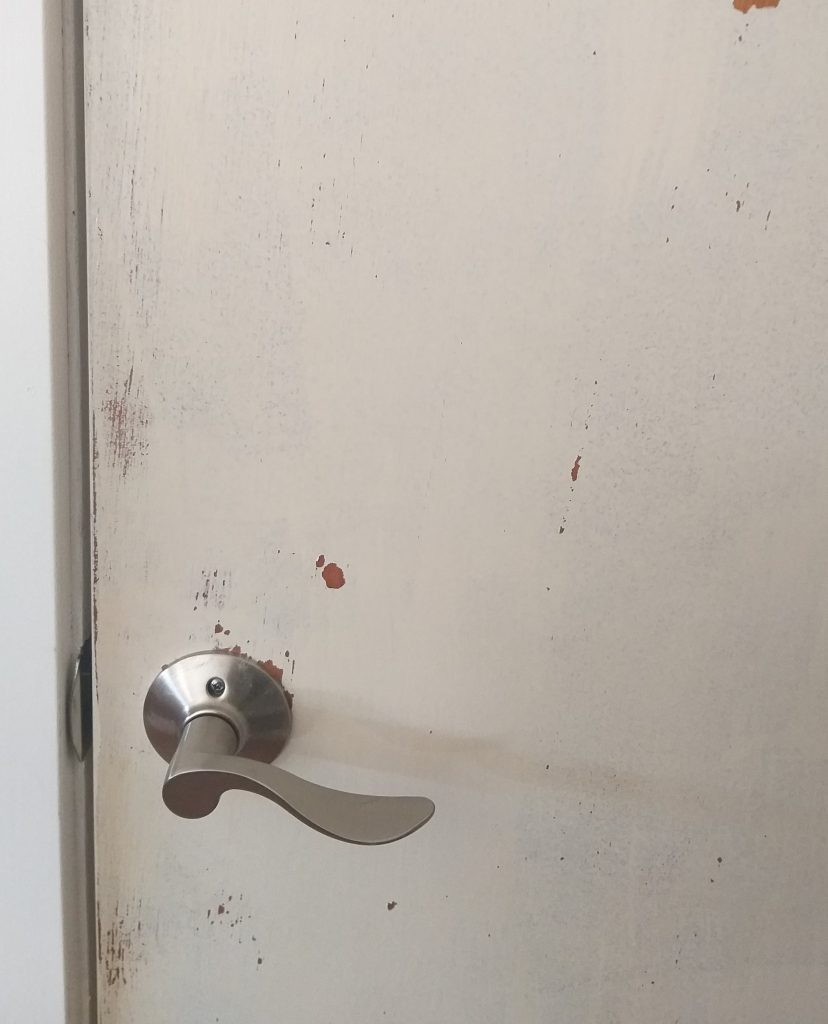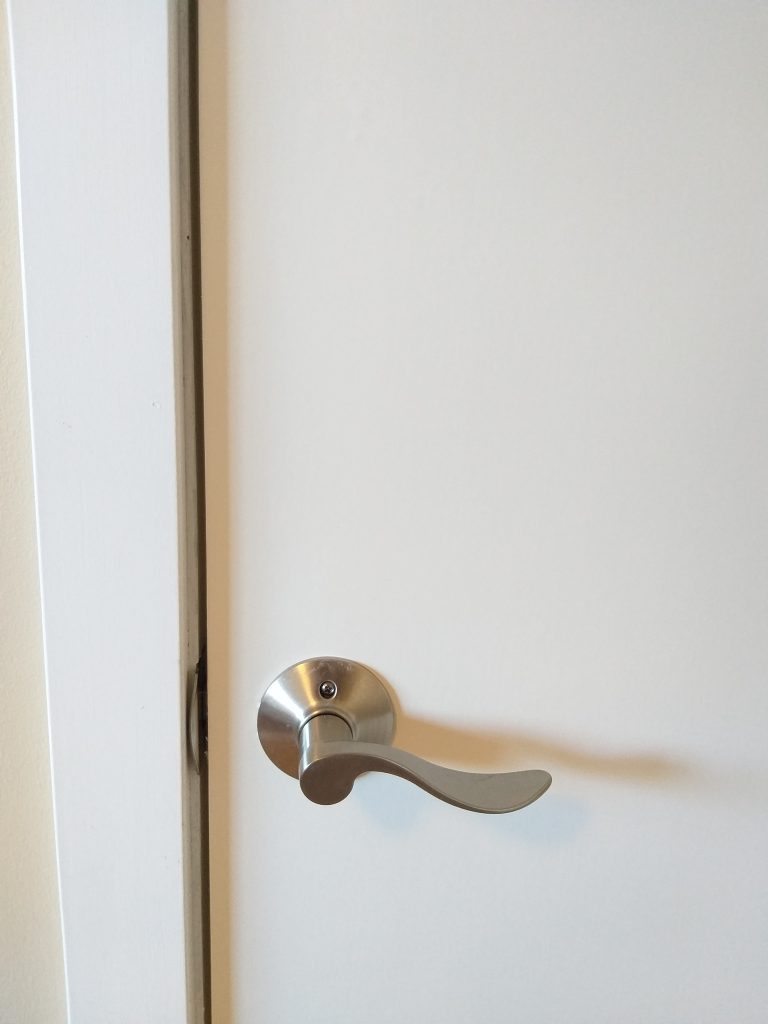 Time-consuming vs
Fast
Painting is a long process. You have to take the cabinets apart, find a flat place to put every detail separately. Then perform several steps of prepping, which includes cleaning, grease removing, sanding, and let surfaces dry in between. After that is the primer time and a minimum of 24 hours of drying. Then again, you have to sand surfaces lightly, only then you can paint them. And that's only the first coat! You need to repeat the sanding and painting process two more times. When you're finally done, let surfaces dry for two or three days.
Believe it or not, but the film installation requires much less time. 
We start from the free in-home assessment and measuring. Then you decide what pattern you would like to see on the surface of your kitchen. You choose should it be rich wood or solid color, marble or metal. Only with the film solution, it is possible to make your wood cabinets look like marble. After you've made your choice, our installation team will do the rest. And in a few hours, you will be admiring the look of your fully transformed kitchen.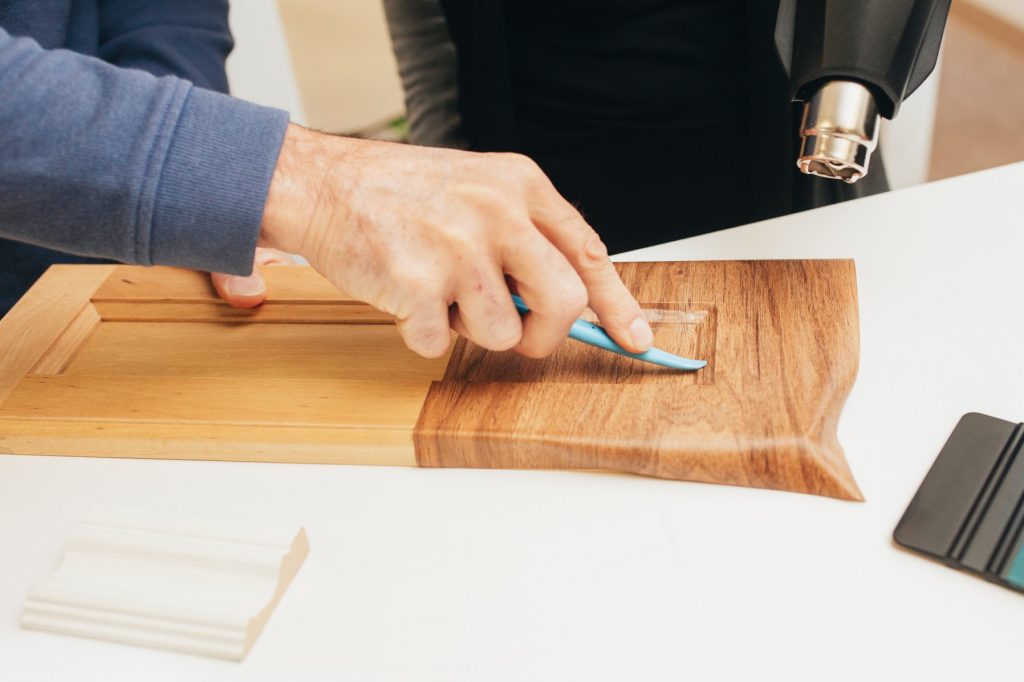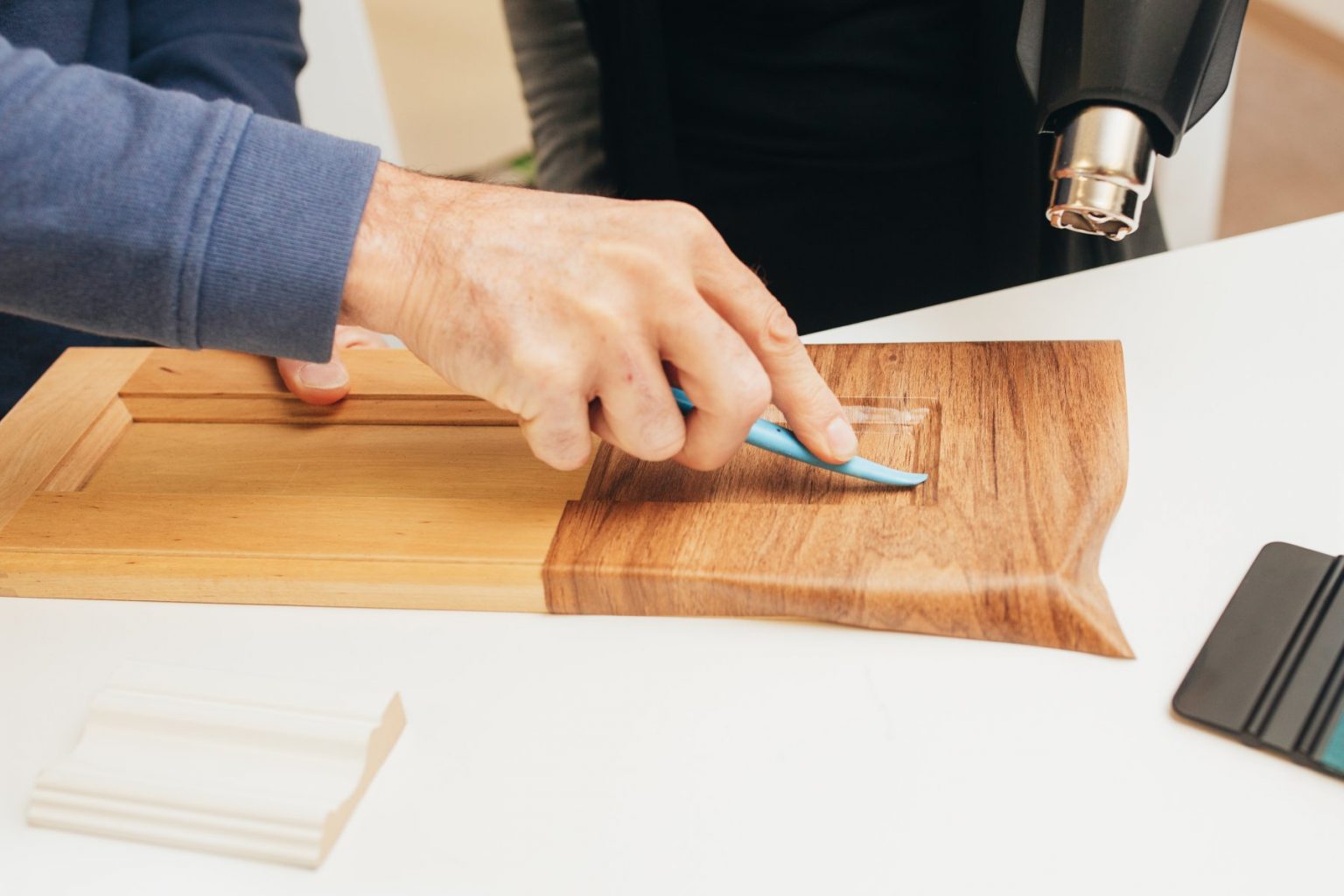 Messy vs
Clean
You have to agree the painting is not only a long process but also a messy one. Usually, the surrounding area had to be covered with protecting coverings. Don't forget to tape everything you do not want to paint. And be careful when removing the tape, so you won't damage a fresh coat of paint. Otherwise, you have to start again. As a side note, when painting with a paint-brush, there would be stuck-on brush hair too.
In contrast to traditional paint finishes, the architectural film is installed without the need to protect surfaces around from paint splashes. Surfaces are clean and touchable right after the film is installed. There is no extensive waste and cleaning after the installation is completed. So you do not have to think about how to get rid of all the garbage that was left afterward.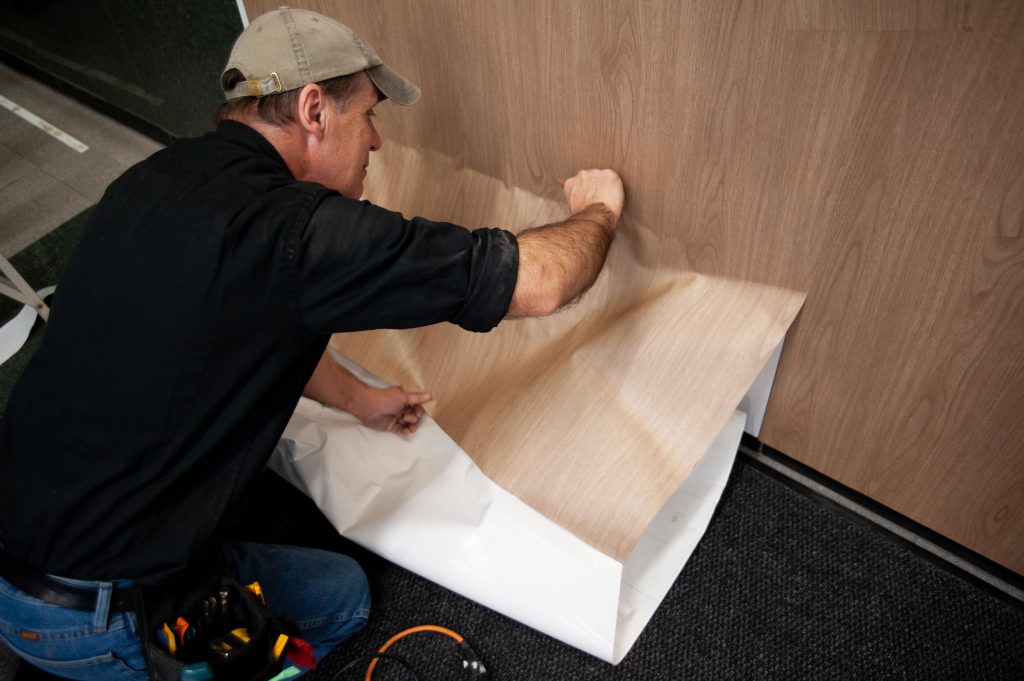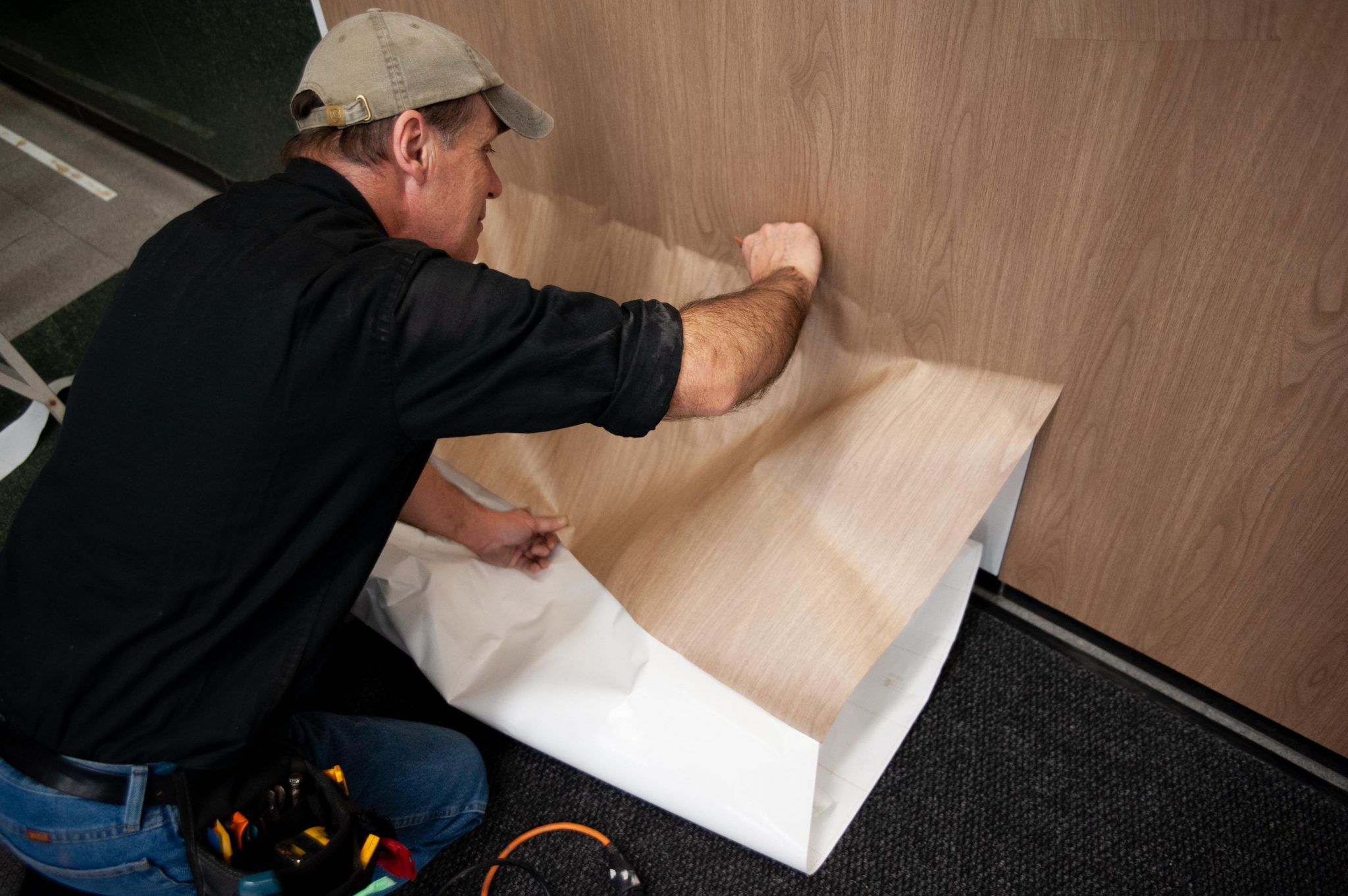 Highlights Flaws vs
Hides Flaws
If all the previous points weren't enough, there is one more drawback of paint finishes. If a surface is not perfectly smooth, a coat of paint will show all the flaws and even make them more visible. Additionally, brush-strokes would be noticeable on any painted surfaces, unless you have a paint sprayer. However, this method requires pro skills.
On the other hand, the architectural film covers a surface smoothly, hiding all imperfections in the process. A finished item will look clean and neat.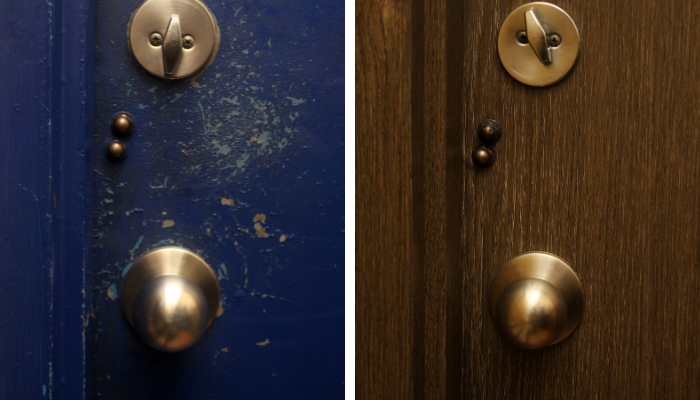 Cracking vs
Durable
The paint finish will inevitably crack and scuff, especially quickly in the high maintenance areas. Surfaces will be damaged with a knife or even with fingernails, particularly vulnerable areas are around knobs. So you'd have to make touch-ups from time-to-time or give the cabinets a new coat of paint.
Conversely, the architectural film is extremely durable and stain-resistant, allowing it to maintain its perfect appearance for more than ten years. You can't scratch it with your nails, and knife run-ins won't damage it.
Tricky Cleaning vs
Clean with Ease
Cleaning is an inevitable part of housekeeping. At one point you'll have to deal with a necessity of deep clean, that's where you face kitchen cabinets. And paint finishes could be quite tricky. For instance, after interaction with cleaning solutions and disinfectants, some chalk paints lose their glossiness, other paints show watermarks and food or oil stains. You have to be careful and make a research before choosing a cleaner.
Unlike painted finishes, it is really easy to clean and sanitize kitchen cabinets covered with the architectural film. You wipe them with any cleaning solution, and you're done. It is proved that vinyl films are antibacterial and easily sanitized.
We wrap the existing surfaces with the film so that they look new and exactly how you want them to look. The installation is quick, and the final result looks fantastic.
Do you still have questions? 
Feel free to contact us by phone or email, and we will gladly assist you.
By the way, our quotes are free. Request yours!