Kitchen renovation: do you need it?
The main question right up front: why renovate the kitchen? Well, we have to admit it: people spend lots of their time in this room. Do a meal, wash some dishes and an hour, to say at least, is already gone. In our experience, two types of homeowners are typically always concerned during this daily cabinet-to-cabinet trip: those who just purchased a house and those who have been cooking in this very kitchen for a long time. The former may feel the previous homeowners just didn't have a decent taste: bleak colors, non-matching furniture sets or (God forbid) wrong-sized appliances; while the latter are normally satisfied, as it is their kitchen, but would like to see some refreshing touch. Without a doubt, rubbed countertops and a stained table do not instill confidence. 
Happiness to life and misery to budget
If the appliance issue is a misstep in the space planning, the rest relates to an outdated kitchen design and can be handled with some renovation. And when it finally comes to the kitchen renovation, one thing is crystal clear – it will cost a pretty penny. You can imagine it already: painting walls, replacing cabinets and other furniture and then considering a new fridge because it's no longer a match for a new design. To make matters worse, your kitchen might be a galley type, so figuring out how to pack up a brand-new furniture set will take a while.
In the end, is the renovation worth it? Short answer: yes. Check a few pictures below and read further to know how to make it clean, quick, cheap and taste-tailored. Spoiler alert: refinish with an architectural film.
Architectural film advantages for the kitchen
There is no need to resort to traditional renovation approaches. Applying interior film to the kitchen surfaces or, in other words, kitchen refinishing, is a renovation method which, based on our portfolio and experience, leaves everyone totally satisfied. Here are the main advantages of the Bodaq architectural film and examples of how we implemented them in real projects.
As explained above, replacing kitchen furniture or appliances is going to hurt the budget. Refinishing with the architectural film simply saves you money. It is two, and sometimes three times cheaper than conventional renovation. Yes, you are depriving yourself of the new-furniture-shopping joy (or escaping from its torment, depending on your POV), but does it matter if the result – a new kitchen – is achieved anyway? Coming back to the galley kitchen, we do a good job in this type of project. Imagine how cumbersome it would be to find new cabinets that fit in that narrow corner. Plus, no need to spend $2000+ on a new fridge, a new beige one is already there.
As always, the customer is a primary priority. And safety is on top of the requirements.  Thanks to the Bodaq interior film nature, all refinishing is possible within our warehouse. Just like this project, a kitchen renovation can be done without even entering your house. Alternatively, we can come in the last phase if you need a hand in installing the furniture back.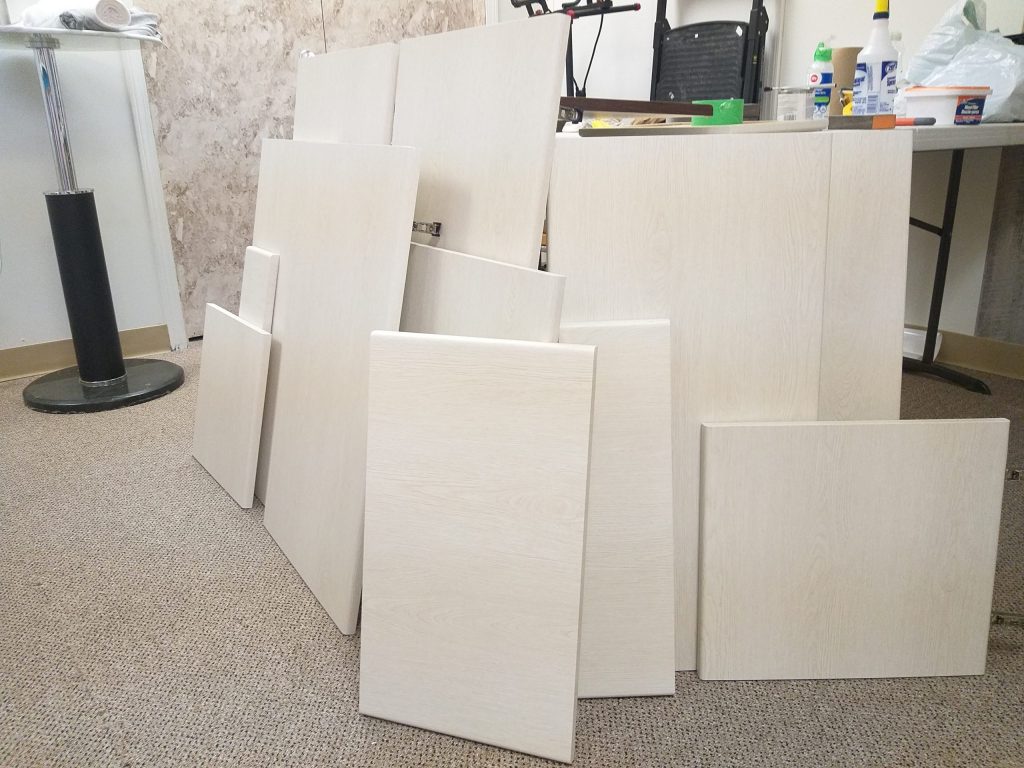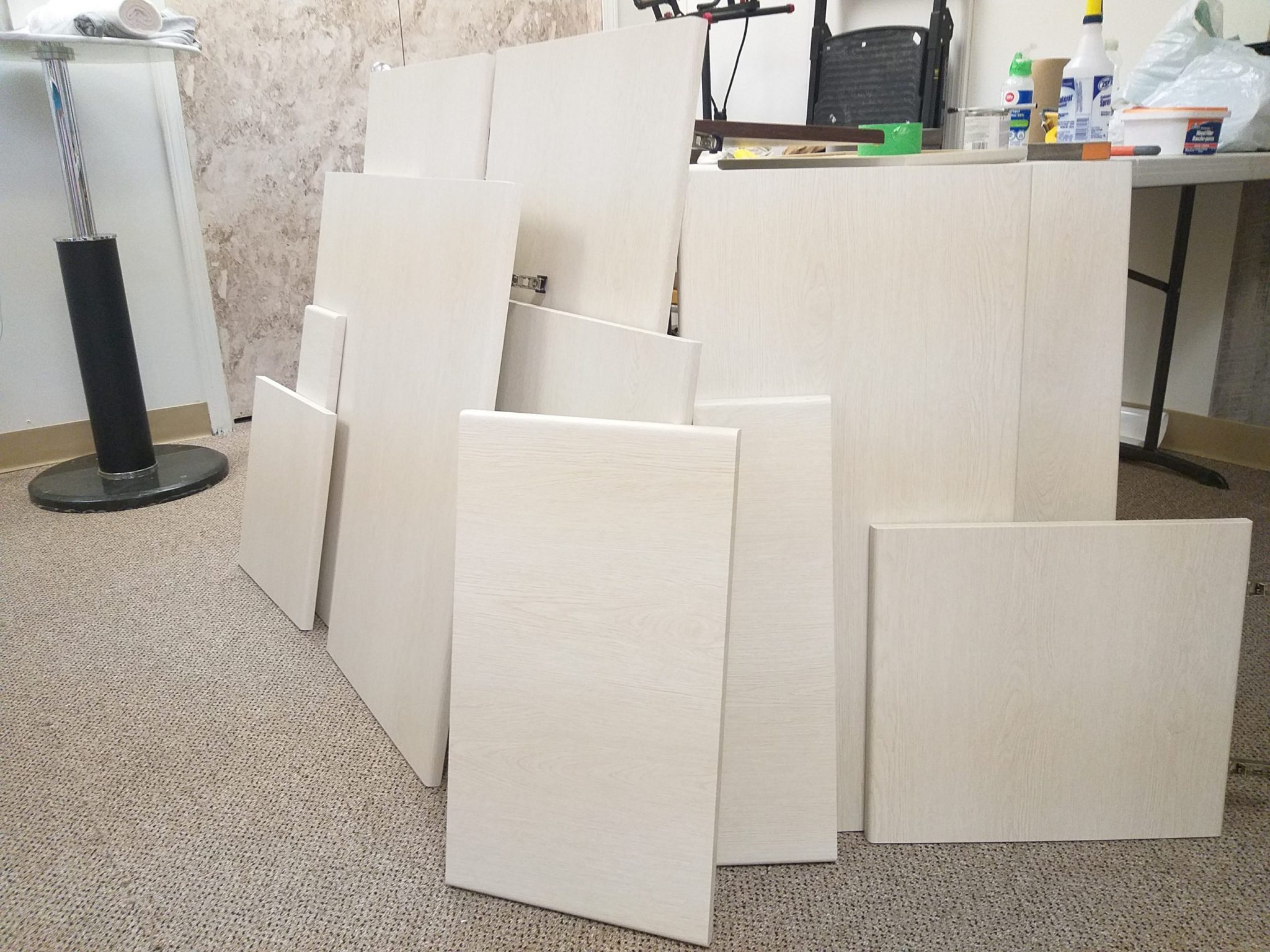 Following the trend and turning your kitchen black? No problem. The dishwasher stands out, and you want your white kitchen to match the matte silver? Here it is. Or maybe tired of orange patterns and need something calm? We've done it, too. Whether you want a full upgrade or update one part of the kitchen like countertops, any desire can be fulfilled. By all means, 450+ film patterns provide an opportunity for infinite combinations.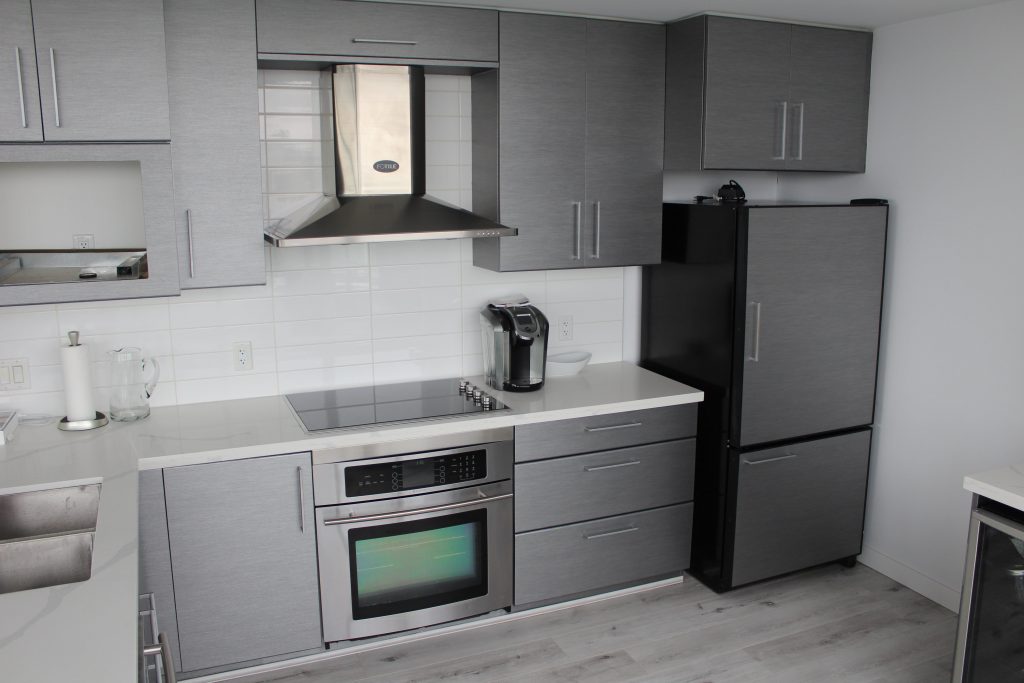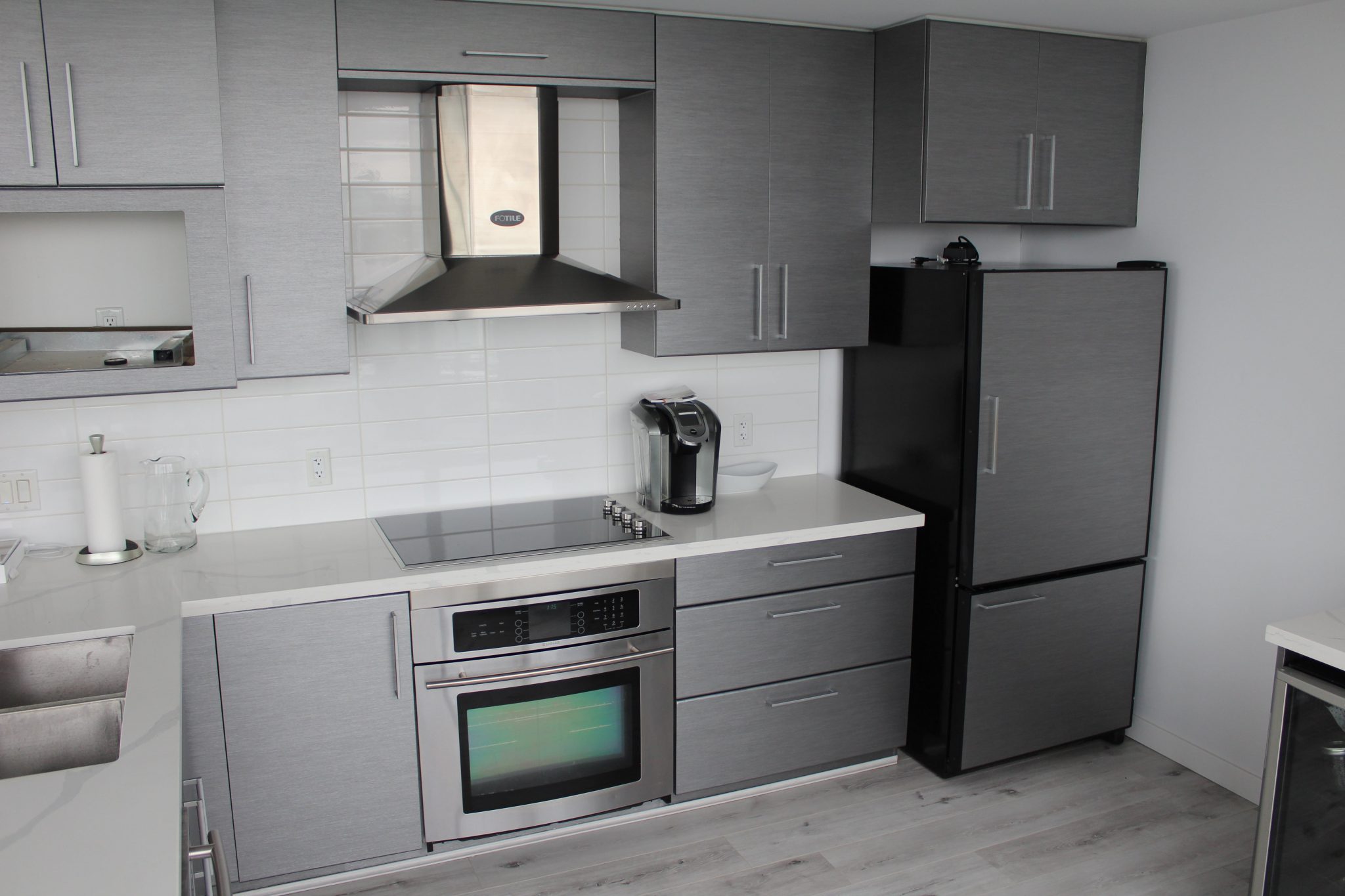 We can say it with total confidence: for most people who want to refresh their kitchen, architectural film refinishing is the best solution. Check the gallery below to see more of our projects and visit Residential Packages to see what can be done to refine your cooking temple. You probably couldn't even guess all the options!
If you're ready to renovate your kitchen  or want to know more about our product or services, feel free to contact us. We're always happy to assist!