Find out how to save up to 60% on renovations
Are you tired of your outdated home decor but do not have the budget for a full renovation? Don't worry! Updating the look of your home can be easy and budget-friendly with Bodaq films.
Interior finishes are perfect to refinish a variety of surfaces, including cabinets, counters, floors, ceilings, doors, walls, and even furniture. In this post, we'll show you how to use the film to transform your home's appearance without breaking the bank.
Cabinets Refinishing
One of the most significant ways to change the look of a kitchen or bathroom is to update the cabinets. Replacing them can be expensive, but with interior film, you can achieve a fresh look for a fraction of the cost. Simply clean the surface of your cabinets, cut the vinyl film to size, and apply it to the fronts of the cabinets. You can choose from a variety of finishes (500+ patterns), such as wood grain, metal, fabric, marble, or solid colours, to match your desired look.
On the projects below, we used Bodaq SPW98 Oak Wood and Bodaq UMI02 Shiny Metal for cabinet refinishing. With professional installation, the projects like these usually take 1-2 days and $1800-2500.
Countertop Refinishing
Like cabinets, countertops can also make a big impact in a kitchen or bathroom. Instead of replacing the entire countertop, consider covering it with Bodaq. Choose from a variety of materials, such as granite, marble, or concrete, to give your counters a new look. And unlike actual countertop materials, Bodaq films are easy to clean and maintain. It's durable enough to withstand everyday usage. In addition, it's antifungal and antimicrobial, which can be a significant advantage in the post-pandemic world.
Patterns that perfectly fit for countertop refinishing.
Floor Refinishing
Flooring can be one of the most expensive renovation projects, but with Bodaq, you can achieve a new look for a fraction of the cost. Our professional installers can update your floor in a matter of days, using our Heavy-Duty collection, which is twice thicker and much more durable than our regular finishes.
Ceiling Refinishing
Ceilings often get overlooked when updating a home, but with architectural film, you can easily update your space. Choose from a variety of textures and colours to match your desired look. The vinyl film is easier to apply in comparison with traditional methods and can be removed if needed. This approach can save up to 70% of your budget. Why pay more for the same look?
Doors Refinishing
Replacing doors can be such a resource waste. Covering them with the film is an easy and cost-effective way to change the look of a room. In addition, Bodaq film is Class A fire rated, which makes spaces safer to live in. Especially it's important when safety is the most important.
Wall & Panels Refinishing
Walls can also be refreshed and updated with Bodaq. It's an easy and affordable way to update the look of any room in your home. One of the most popular patterns to refinish walls with the interior film is to cover them with wood, concrete or marble. It's a great way to achieve the same look and feel, but for a fraction of the cost. Using Bodaq you can save tons of resources and time for the installation. It is a long lasting solution which can stay appealing for 15+ years. Our installation methods allow us to make the seams invisible.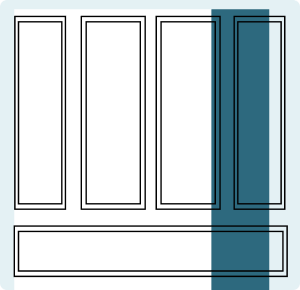 Walls, Panels, Feature Walls
$8 – 12 per 1 sq.ft (material + installation)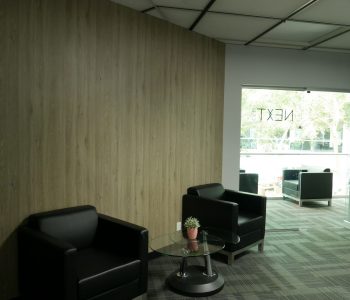 Project Example: Feature Wall 96 sq.ft
$790 including preparation, installation and material
Furniture Refinishing
Furniture can be expensive to replace, but with Bodaq film, you can give your old pieces a fresh look. Tables, fireplaces, mantels, and window sills are the most popular pieces of furniture to refinish. The bigger and smoother surface the less time it takes to refinish, saving budget.
Bottom line 
Using Bodaq interior film to update your home's look is an easy and budget-friendly solution. From cabinets to furniture, this material can be used to refinish a variety of surfaces in your home. Our team can complete FULL home renovation in a matter of weeks, not months, saving you up to 60% on renovation costs. 
Have any question? Want to get a sample of BODAQ interior film?
Feel free to ask for a FREE quote & consultation, by clicking on the button below.