Lesson #4 With Peter Maki
Safety During Installation
Today we are going to talk about safety. Do not consider this topic boring and unnecessary because safety should come first and should be present at the back of your mind with everything that you are doing. Although we work with the vinyl film, in some cases, it can be dangerous.
So these are the main topics for today:
Sharp tools safety

Heat gun safety

Paper backing safety (do not underestimate it!)

Ladder safety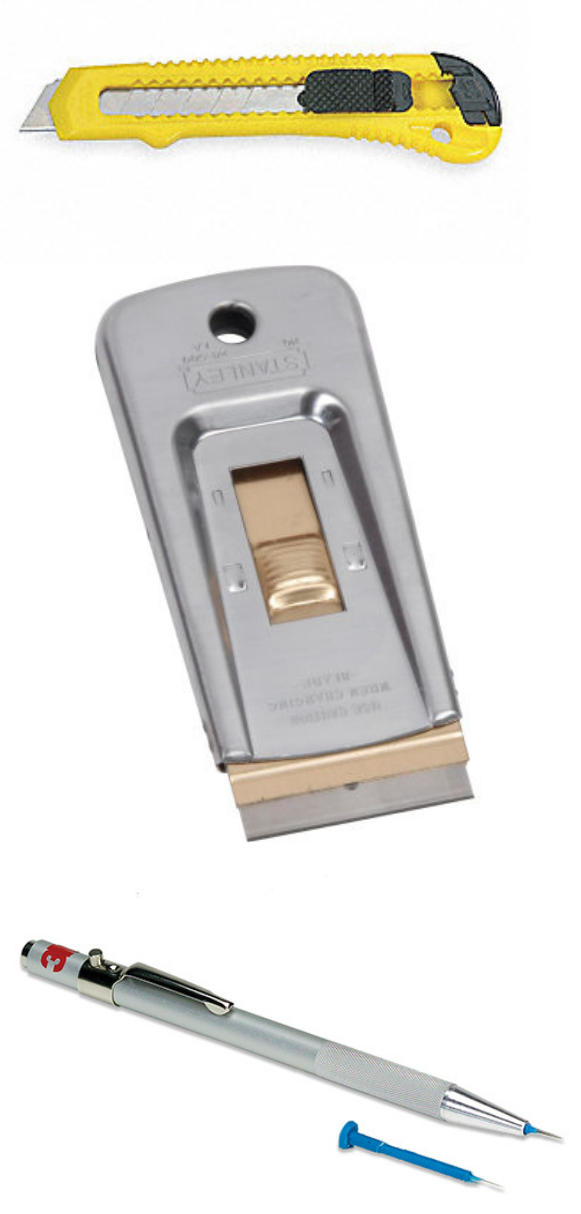 Knife Safety
For the vinyl film, we use an exacto or utility knife all the time on every project. So you want to do that safely.
As soon as you finished working with your knife, bring it back in. Never leave it out on a table. If you slip, you can easily cut yourself. Or if you turn, holding it in your hand, you can cut somebody else. Always retract a blade. Every time you do a cut, bring a blade back to its carriage position, and this way you know its safe.

Use a special spot at your extra blades kit to crack blades off. It is much safer than to do that with your bare hands.
Paint Scraper Safety
When you got it out, you can see that it is a sharp blade, so always have it in the locked position.
Air Releasing Tool Safety
The air releasing tool is a sharp needle. It will penetrate your skin, so always make sure that it is blocked.
You want all these sharp tools to be retracted, especially, when they are in your toolbox. It is really easy to cut yourself.
Note: Peter explained more about tools in the first lesson from the series – Tools Necessary For The Vinyl Film Installation.
Using A Heat Gun Safely
As soon as you turn your heat gun on, you get immediate heat and it is super hot. It burns the skin instantly and you will eventually burn your arms. So when you are working with a heat gun, you want to place it on a flat surface sideways.
Make sure that you put it on a surface that it can't damage, for instance, a concrete floor. However, if you are on a job site, and you put it on a surface like carpet or a piece of furniture, its hot tip can instantly burn it. And you do not want to pay your client for damaged items. So be careful with your heat gun.
A great thing is that many guns have a special spot to put them upwards. This will prevent it from touching anything on the ground.
Another issue with heat guns is electrical cords. Make sure it runs safely because it can be a tripping hazard, especially, when you work around the general public. If it is only you working on site, and you know where the cords are, it is safe. However, when there are other people around, there is the issue of tripping.
So always make sure you put your heat gun where you know where it is, it is not in a way, and you do not need to worry about burning yourself, burning someone else, or potentially burning a product or client's property at your job site.
Paper Backing Safety
On the back of the vinyl film, after you remove it, the backing is covered with a special material and it is a very significant issue because of its slippery. What we tend to do after we pull vinyl apart is to get rid of the paper backing out of the way as quickly as possible, so we would drop it somewhere. But someone can step on it and slip. And it is worse than a banana peal, especially, in combination with a wet floor.
Another thing that could happen to you with a backing, is paper cut. This does not feel good. And because we cut it with a sharp knife, we get a very sharp cut edge. You can't avoid it because you work fast. So always make sure to have a medical kit on hand to fix a cut immediately.
Ladder Safety
You might be using a ladder at a job site quite often. And this is the most dangerous part of the job of the vinyl film installer because falling off the ladder can not only hurt or cause a serious injuries, but also ruin your health and career.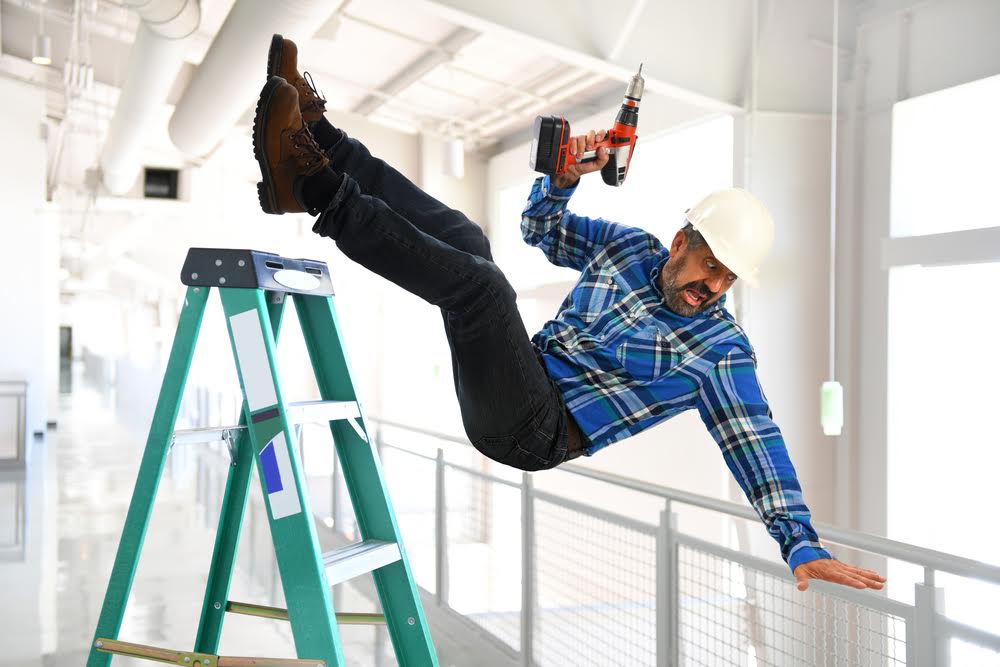 These are some small tips Peter recommends to do to ensure you are safe while working on a ladder.
Learn how to properly set up your specific type of ladder.

Make sure that a surface you set up a ladder to is flat and not in a danger of breaking. Or use a special ladder LockDown for securing ladder legs (as shown in the picture).

Make sure that a ladder stands on a flat surface and there is nothing under its legs.

Every ladder should have a "Dangerous" sticker on it. Do not use a ladder without that sticker, that might indicate that a ladder is old. And if that is the case, you do not want to be using it.

Do not use a ladder with damages on it. Do not risk your health, life, and potentially your future career because of a broken ladder.
We hope this lesson was useful and keep safe!