From Dull to Dazzling: Elevating Your Bathroom with Bodaq Interior Film
Is your bathroom lacking the charm and appeal you desire? If you're on a quest to revamp your bathroom without breaking the bank, Bodaq Interior Film might be the perfect solution for you. This innovative material can transform your dull and outdated bathroom into a dazzling oasis of style and sophistication. In this blog post, we'll explore the wonders of Bodaq Interior Film, its installation process, and some inspiring design ideas to elevate your bathroom's aesthetics.
The Magic of Bodaq Interior Film
Bodaq Interior Film is a versatile and adhesive-backed material that opens up a world of possibilities for renovating your bathroom. This self-adhesive film offers various textures, patterns, and colors that mimic the appearance of natural materials like wood, marble, and stone. Whether you're going for a rustic, modern, or contemporary look, Bodaq Interior Film has got you covered.
One of the most significant advantages of Bodaq Interior Film is its cost-effectiveness compared to traditional renovation methods. You can achieve stunning results with a fraction of the cost, making it an ideal choice for those on a budget or looking to renovate without major disruptions.
Simple and Swift Installation
Unlike time-consuming and messy renovations, Bodaq Interior Film provides a quick and easy installation process. With proper surface preparation, you can apply the film directly over existing tiles, walls, or furniture. No need for extensive demolition work or dealing with grout. It's a DIY enthusiast's dream!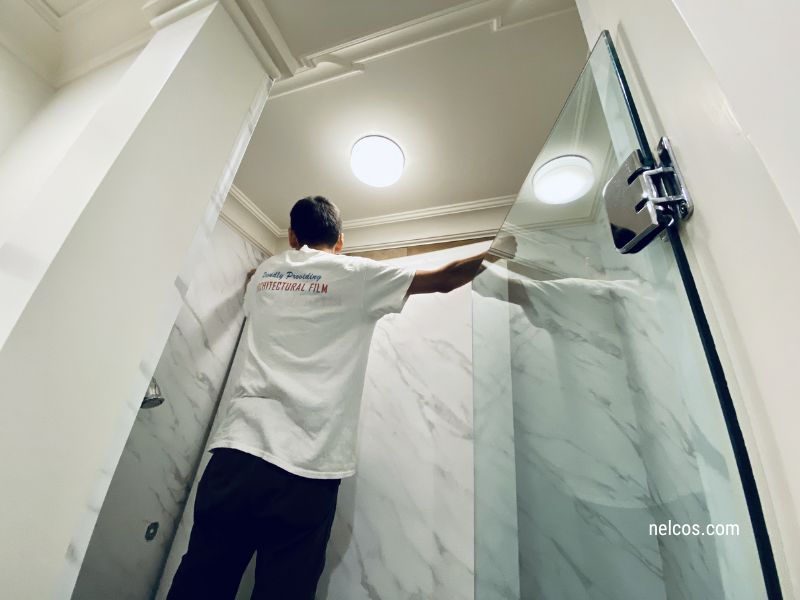 The film's adhesive properties ensure a strong and long-lasting bond with the surface, making it a reliable and durable choice for your bathroom renovation. However, for the best results, it's essential to follow the manufacturer's installation guidelines or seek professional assistance.
Benefits of Bodaq Interior Film
Apart from its cost-effectiveness and easy installation, Bodaq Interior Film boasts numerous other benefits:
Water and Moisture Resistant:

 Bodaq Interior Film is designed to withstand moisture and water splashes, making it perfect for bathroom environments.

Stain and Scratch Resistant:

 The film's protective layer prevents stains and scratches, keeping your bathroom walls and surfaces looking pristine for years.

Eco-Friendly Choice:

 Bodaq Interior Film is an eco-friendly option that reduces waste by upcycling existing surfaces and minimizing the need for new materials.

Low Maintenance:

 Say goodbye to rigorous cleaning routines! Bodaq Interior Film requires minimal maintenance to stay looking fresh.
Design Ideas to Inspire
Ready to unleash your creativity? Here are some design ideas to inspire your bathroom renovation using Bodaq Interior Film:
Modern Elegance
Achieve a contemporary, sleek look by opting for Bodaq Interior Film with marble or concrete texture. Add some metallic fixtures and minimalistic décor to complete the modern vibe.
Countertop Refinishing
Watch our video about this project!
Modern elegance is well within your reach when you choose to refinish all surfaces in your bathroom with Bodaq Interior Film. From cabinets and vanity to the floor, this innovative material can completely transform your space into a stylish haven. Embrace the simplicity, cost-effectiveness, and versatility of Bodaq Interior Film, and enjoy a bathroom that exudes modern sophistication and timeless appeal.
In the photos below you can see the following interior film patterns: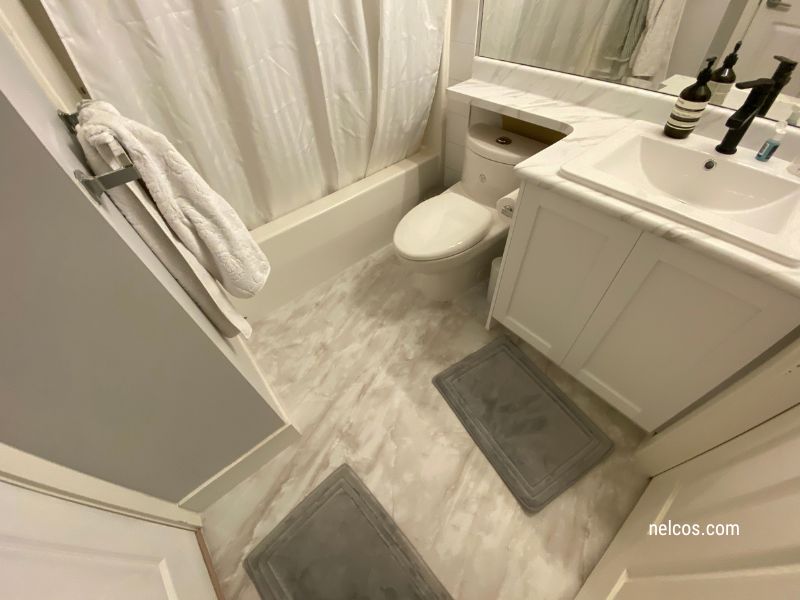 Modernizing Outdated Red Cabinetry
Do you have old, outdated red cabinetry in your bathroom that no longer fits your style? Don't worry; Bodaq Interior Film can work wonders in transforming these eyesores into a modern and refreshing space. Say goodbye to the old-fashioned red and hello to a sleek, sophisticated white finish – S126 Solid White – with Bodaq Interior Film.
Refinishing Shower Stall
Is your shower stall looking worn-out and dated? Don't fret! Bodaq Interior Film can be a game-changer in reviving the look of your shower stall. Refinishing your shower area with Bodaq Interior Film allows you to achieve a clean, modern, and hygienic space without the hassle and expense of a full shower renovation. Take a look at the amazing transformation with NS814 Cremona Arabescato interior film from the Stone & Marble Collection.
Using Interior Film in Commercial Settings – Office Washrooms
Elevating Office Washrooms with Bodaq Interior Film
Customized Branding:

 With Bodaq Interior Film, you can incorporate your company's branding into the washroom design. Apply the film in colors and patterns that match your brand's identity, creating a cohesive look throughout your office space.

Hygienic Surfaces:

 Bodaq Interior Film is easy to clean and maintain, making it an ideal choice for washroom walls and surfaces. Its water-resistant properties and smooth finish prevent the buildup of dirt and bacteria, promoting a hygienic environment.

Quick Installation:

 Minimize disruption to office operations with Bodaq Interior Film's swift installation process. The film can be applied directly over existing tiles or walls, reducing downtime and allowing the washroom to be back in use quickly.

Cost-Effective Solution:

 Renovating office washrooms with traditional materials can be costly. Bodaq Interior Film provides a cost-effective alternative that doesn't compromise on quality or aesthetics, making it a practical choice for office spaces.

Durability:

 Bodaq Interior Film is designed to withstand daily wear and tear, making it well-suited for commercial environments. Its scratch-resistant and long-lasting properties ensure that the washroom retains its pristine appearance even with heavy use.
At Nelcos, we believe that office washrooms deserve attention and care to create a positive and welcoming atmosphere for employees and visitors alike.
Bathroom Renovation Made Easy!
With Bodaq Interior Film, transforming your bathroom from dull to dazzling is now within reach. Embrace the simplicity, cost-effectiveness, and environmental benefits of this innovative material to revamp your space and achieve the bathroom of your dreams. Get started on your renovation journey and watch your bathroom come to life with style and sophistication.
FAQ for Bathroom Renovation Made Easy
Are you ready to renovate your washroom? Call Nelcos!
Are you ready to transform your washroom into a stylish and functional space? Look no further than Nelcos! Our team of experts is ready to bring your vision to life with Bodaq Interior Film, the innovative solution for cost-effective and efficient renovations. Whether it's your home bathroom or a commercial office washroom, we have the expertise to create customized designs that reflect your unique style and branding. With our quick installation process and durable materials, you can enjoy a beautifully renovated washroom in no time. Elevate your space with our professional services and experience the difference Bodaq Interior Film can make. Call Nelcos today, and let's get started on your washroom renovation journey!