Office renovation might be challenging. Either you want to move to another office or update an existing one. 
Both of these renovations require tremendous time and budget spending.
Most of owners prefers to start everything from scratch what usually invokes lots off office renovation struggles.
We disagree with that approach. Why start everything from scratch if you can get the same result by wrapping it with architectural vinyl film? 
Looking at the pictures below you might say: oh my gosh, it looks so outdated, and everything needs to be replaced!
But what does the word "replace" mean?
Tons of time by deciding and choosing what to buy instead of outdated surfaces
A lot of paid work in changing and removing old furniture
A lot of time for the renovation process itself
Even looking at these scratches and dents we can definitely say that we can give a new life to that furniture, front desks, walls, floor, countertops, doors, window sills, cabinets, cupboards and much more!
Choose any of 450+ patterns we have. It might be wood, stone, marble, metal, fabric, solid colours. Nevertheless, the texture perfectly imitates original materials. Try them out by ordering our FREE samples.
How much can I save?
By choosing to wrap instead of standard renovation, you can minimize your expenses. A rough estimate says that you can save 50% of your costs by getting the same result.
In addition, the office renovation would take us only 3-4 weeks to get everything done. It also saves your money, because every additional day of renovation lowers profit.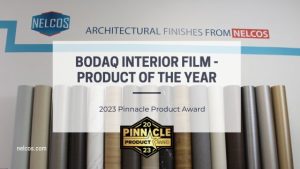 Bodaq Interior Film Wins Big at the PRINTING United Alliance 2023 Pinnacle Awards Bodaq Interior Film, a product that we proudly distribute, has clinched the highly coveted PRINTING United Alliance
Read More »